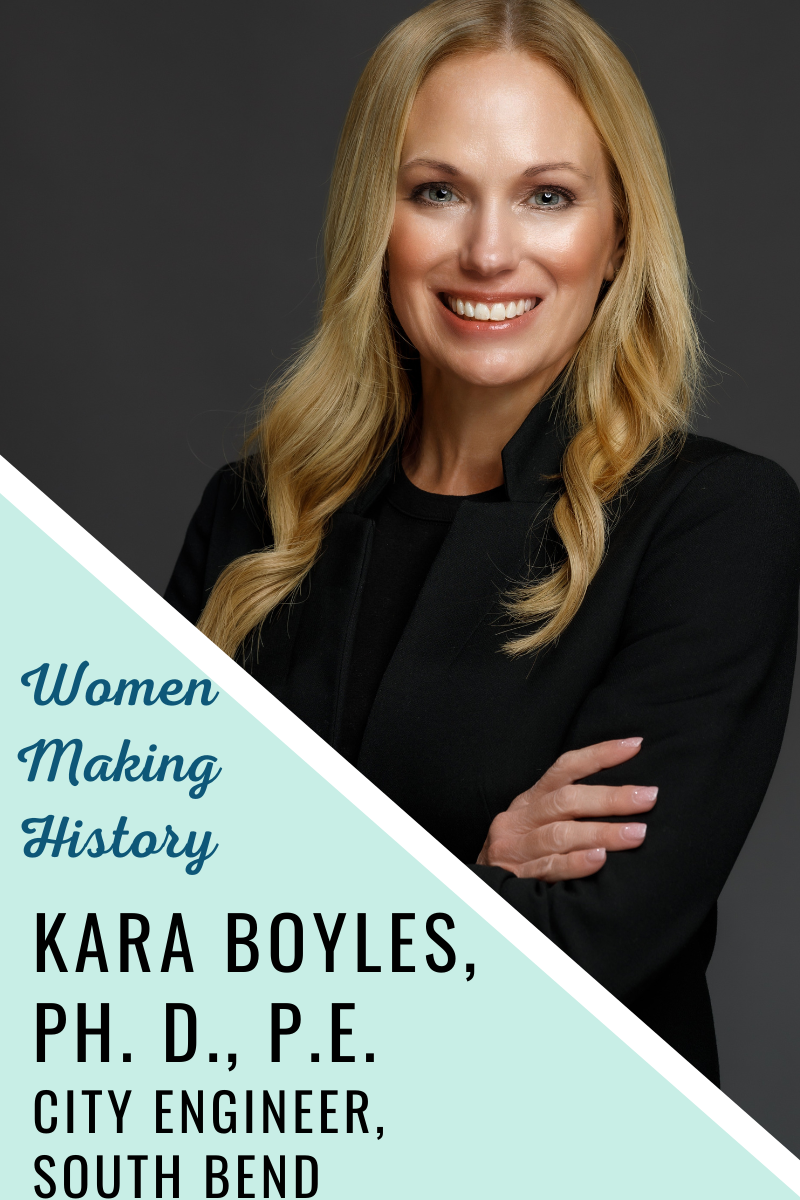 As Women's History Month draws to a close we want to highlight a leader in our area who is making history not only for other women, but for all citizens to be heard and partners in our community solutions. Director of Member Engagement, Callahan Carr, sat down with City Engineer, Kara M. Boyles, Ph. D., P.E. to find out more about what inspires her and how human-centered design is shaping the South Bend. She is the first woman to ever hold this position in the history of the city.
With women accounting for only 13% of the engineering profession, it comes as no surprise that South Bend's first female city engineer is not only on a mission to bring solutions to our citizens, but also to pave the way for more women in STEM.

Dr. Boyles is a problem solver, but not all problems come to a clear consensus of how to move forward for the greater good. However a focus on human-centered design breaths new hope into the cross-departmental efforts for utility assistance and forgiveness in South Bend. This approach has lead to Dr. Boyles and her team interviewing many tenants and landlords in our most vulnerable neighborhoods. "I try to challenge the team to look beyond the facts…listen to the citizens and understand the problems. It's so important to engage and empower the citizens to know they have a voice and we are here for everyone."
When citizens come to her with a problem and the answer has to be "no", her next mission is to find another solution or a different perspective of the issue that can bring relief.

"I love that South Bend is a big small city.  Every neighborhood has a sense of home. I'm a public servant because I care about people and I value serving them. When I hear their stories and experiences, it creates a fire to keep me working to help others."
 She also draws inspiration from her team (which happens to be 54% female) as well as other departments within the city. The bonding connection they all share is looking to serve the citizens and forward progress for our city.

When she's not interacting with community members or evaluating traffic signal warrant analysis, Dr. Boyles can be found in the classroom teaching "Engineering Community Project Leadership" at Notre Dame and mentoring young women. A staggering 40% of women leave the career of engineering. After too many conversations with young women who felt ill prepared or unsure of their career choice, Dr. Boyles is committed to promoting the pursuit and persistence of STEM careers for women. While advocating for an authentic culture within her teams she stresses the importance of vulnerability.
"I give permission to everyone, especially the men on my team to be vulnerable. You don't have to know everything. That's a constant challenge for an engineer."